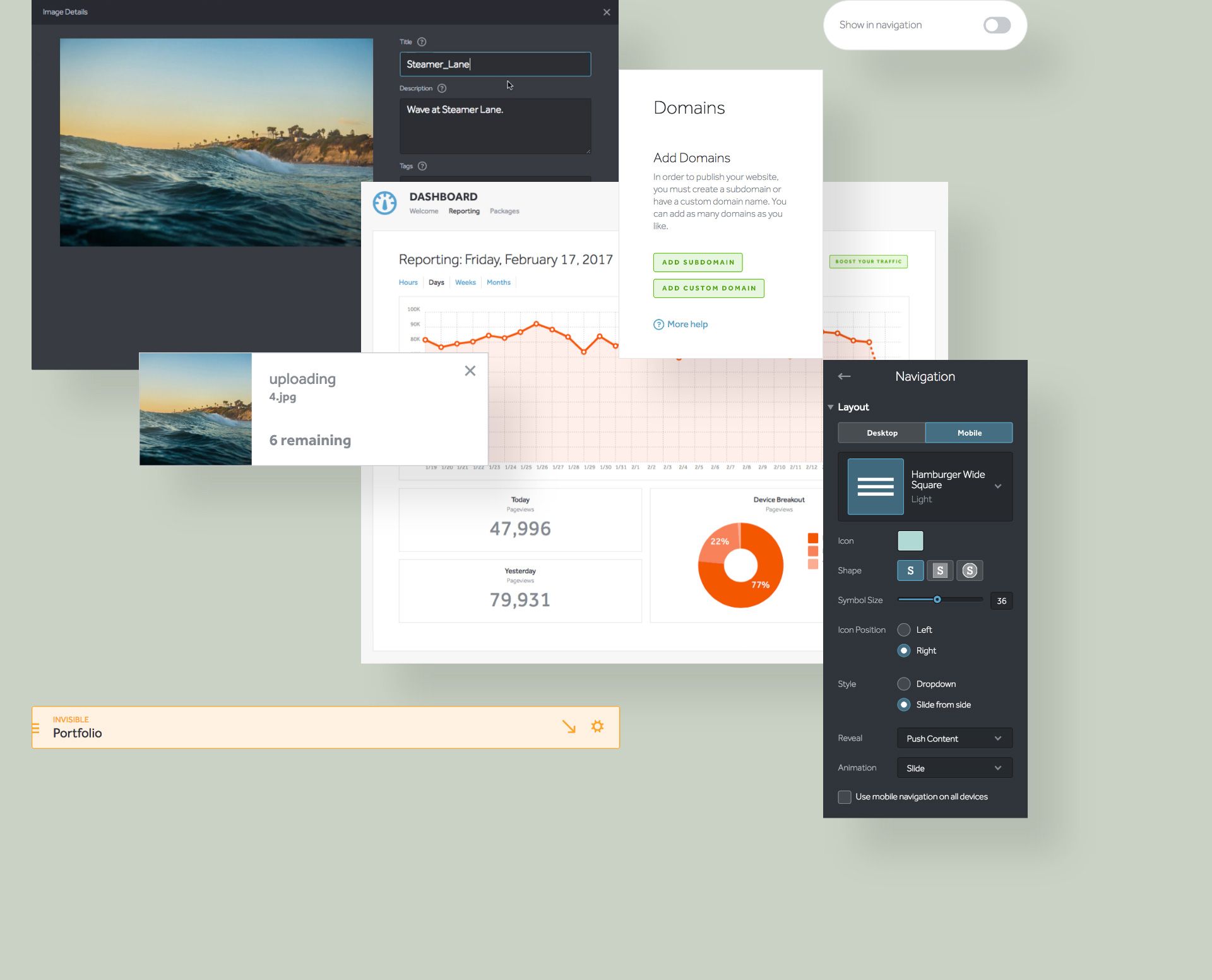 Even More Features...
Our dynamic platform and robust features can help you build the powerful web presence you deserve.
Custom Favicon
Display your own custom Favicon in a supporting browser's address bar.
Animations
Fade, zoom or slide content using different animation styles.
Drop Shadows
Use shadows to add depth to objects throughout your website.
Gradients
Produce smooth color transitions that add visual impact.
Advanced Image Compression
With liveBooks' advanced image compression tools, you have the ability to fine tune the quality of your images.
Proof Sheets
With your liveBooks website, you can easily create password-protected proof sheets for clients to access.
Image Hover Effects
Image hover effects allow your title and descriptions to display on top of images when a user hovers over them.
Typekit Fonts
Our partnership with Typekit allows you to use the highest quality fonts for free.
Optimize Images for Search
The SEO tab makes it quick and easy to add Alt-title and description to images, which improves your search results.
Password Protection
Easily password protect pages or enitre sections of your website.
Mobile Settings
You can customize the mobile navigation and mapping setting of your already mobile-friendly website.
SSL Encryption
All SpaceCraft websites include HTTPS, the most secure protocol available for websites today.
Fast Image Serving
liveBooks hosts your images and reduces load times by taking advantage of content delivery networks around the globe.
Site Wide Styling Tool
Set up design standards for your entire website to follow in one spot.
Page-Level Styling Tool
Customize and style each individual page within your website.
In-Line Editing
For a more visual experience, edit your content directly within the design view of your website builder.
Save Design
Save all of your work as you go. Our website builder has an auto-save section which ensures your hard work is safe.
Easy Preview
Preview your website in Desktop, Tablet and Mobile mode, all within your website builder, before you share it with the world – just click the preview buttons.
Built-in Content Modules
Add as many content modules as you like. You can pick from our pre-configured modules in your website template or create your own by combining our image galleries, videos or text blocks.
Varied Portfolio Views
liveBooks offers multiple presentation styles for your images, including grids, slideshows, and stacking.
Video
Ability to add your videos from Vimeo and YouTube; just copy and paste the embed code in your website builder.
Drag and Drop Design
Easily move content sections, items and images to create a perfect website. No need for file attachments; just drag and drop your images directly from your desktop to your browser.
SEO Everything™
Quickly add title tags, descriptions, keywords, image alt text and more to your website so that your site is easily searchable and indexed properly.
Unlimited Images and Galleries
Add unlimited images to your galleries, then quickly design and customize their layout in your website builder so every single one looks great on the page.
Tag and Manage Images
Easily add titles, descriptions, credits and tags to every image on your website.
Social Media Integration
liveBooks offers multiple presentation styles for your images, including grids, slideshows, and stacking.
Advanced Developer Tools
You will have the ability for infinite customization with advanced developer tools so that you can make and add custom HTML/CSS to your website.
Multi-User Accounts
Ability to add multiple user accounts with separate roles – Administrator, Content Editor, and Designer – allowing you to set up the right permissions for each user.
Third-Party Apps
Quickly add Google Analytics, Clicky, GoSquared, StarCounter, and more to track your website traffic. Plus, add your Wufoo or FormStack forms directly into your liveBooks website – no coding required.
Legacy URL Tool
You'll have the ability to add redirects from your existing website URLs to your new liveBooks website so that users do not receive error messages for bookmarked pages or search results.
liveBooks Support Center
We've built an online knowledge base with help guides, tutorials and videos.